Being a content creator on Instagram can prove to be a booster for your business with the correct strategy. Your business is a symbol of your personal branding, so why not let the limelight shine on you? Get to know these exciting, and supremely useful Instagram hacks to expand your reach and upgrade your Instagram marketing to a whole new level.

1. Get your Bio in More Search Results
Include a business keyword into the name field and you have better chances of showing up in search results for that industry. Sounds like an Instagram hack you should know?
Here's how you can do it:
Tap on Edit Profile on your profile
In the Name section, include your keywords
Tap Done
2. Switch to a Business Profile
Take your professional skill a notch higher and declare your brand officially to the world with this super-useful Instagram hack. Besides some advantages like running ads and getting insights, you can appear in more search results!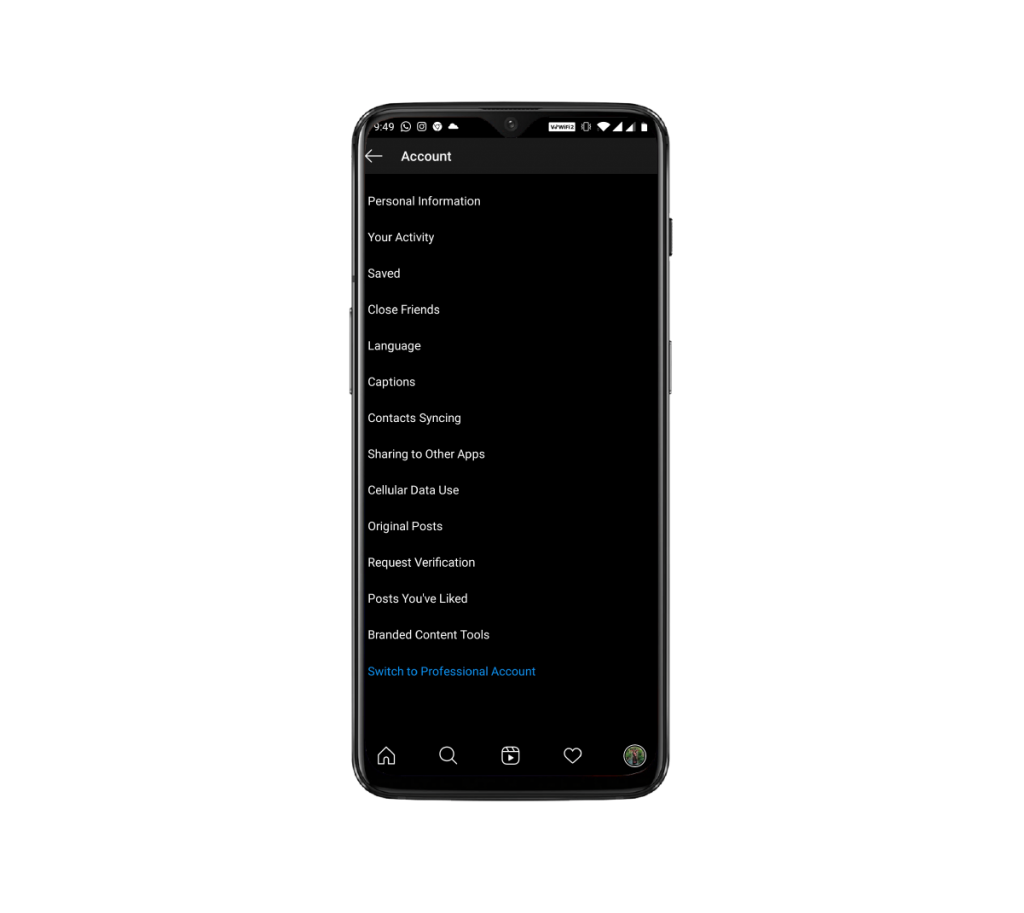 How you can do it:
Go to your profile and tap the hamburger menu
Tap Settings, then Account
Tap Switch to Business Account
For making use of all the business features, make sure you connect your business account to a Facebook Page associated with your brand. To make it more appealing, you can add details such as your business category and contact information as well. Way to go!
3. Find the Best #Hashtags
Hashtags: one of the most favourite Instagram growth hacks in gathering attention. Finding the most relevant hashtags to use is important for discovery. Here's how you can figure out which ones can be the best fit for you: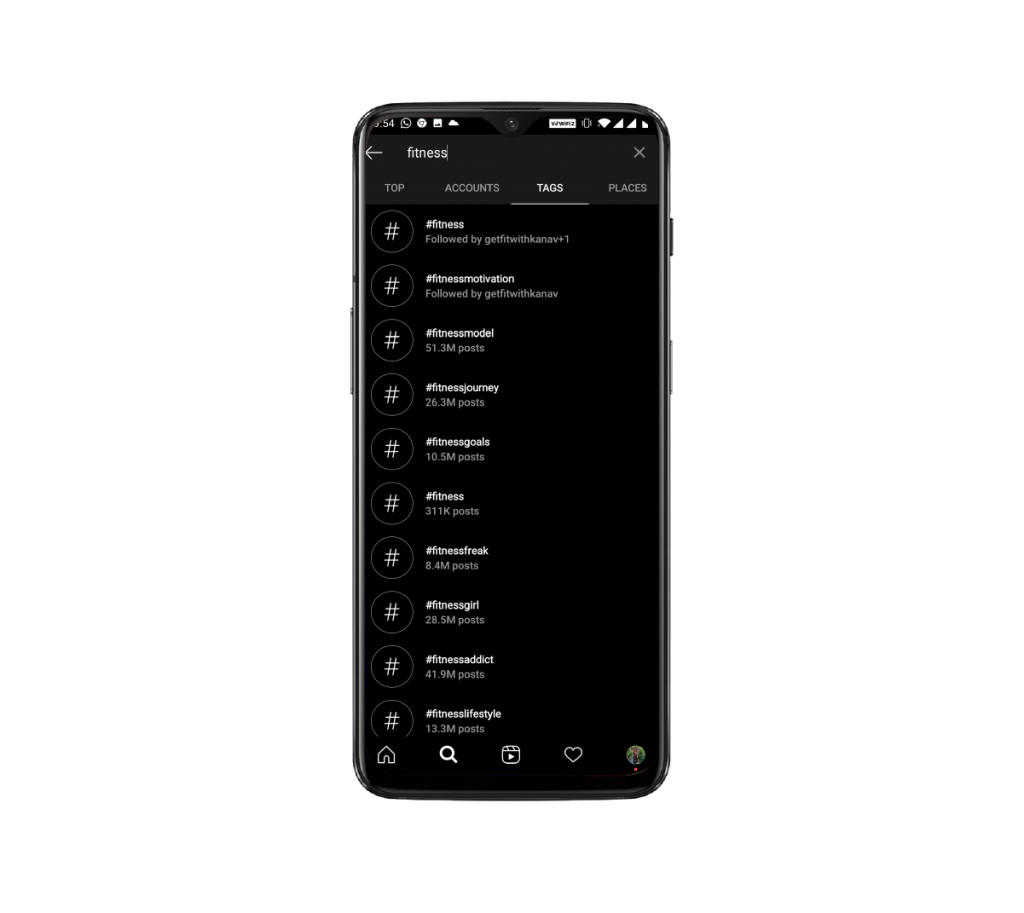 Here's how you can figure out which ones can be the best fit for you:
Select the magnifying glass icon and visit the Explore tab
Type in a keyword and tap the Tags column
Choose a hashtag from the list
This will direct you to a page of posts with that hashtag with a small bar labeled "Related." Here, Instagram will give you relevant hashtags that you can use further. Use as many as you want, and increase your reach exponentially.
You can boost your reach by searching user-generated hashtags via All Hashtags. Learn and grow your business with Exly.
4. Know how to Hide Hashtags
Worrying about looking thirsty with your hashtags?
One of the most simple Instagram hacks is that you can use is to separate your hashtags from your caption by introducing line breaks to bury them down below where they're not visible.
Here's how you can do it:
Tap the 123 key when completing a caption
Select Return
Enter any punctuation (period, bullet, or dash), then hit Return again.
Repeat the above steps a few times.
After three lines, Instagram will automatically hide your hashtags so they won't be viewable, unless your followers tap the "see more" option.
5. Add Clickable Text to your Bio
Give your followers easy access to your personal and/or professional account with this quick hack!
Here's how you can do it:
Go to Edit Profile
Tap on the Description
Add a '#' for the hashtag and @ before a word or account
Click Done
This hack could come in handy if you manage more than one account, or if you're running a branded hashtag campaign.
6. Appear on the Explore Page with this Quick Hack
Your name field in your bio is actually searchable and can pop up in your industry searches.
That means, for wider discovery, you can introduce words that highlight your profile or business.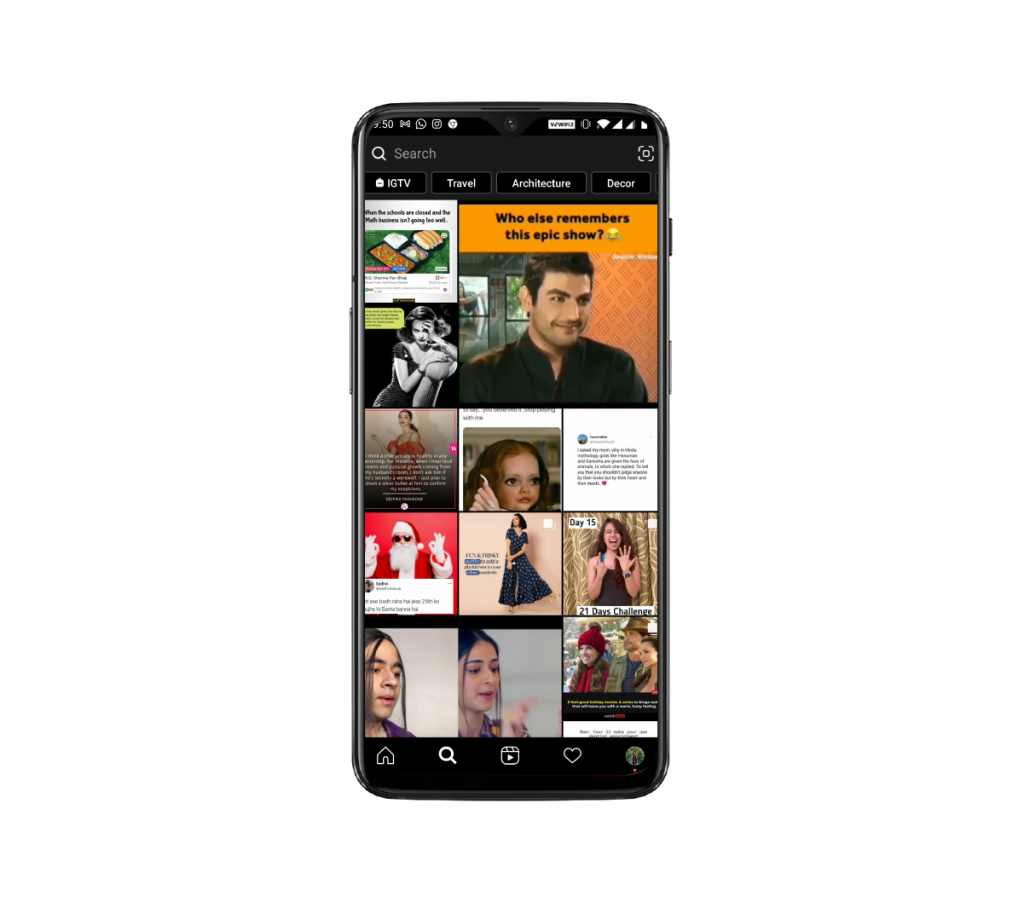 How can you do that?
·Simple tap on Edit Profile
Slip in your business go-to word
Tap Done
Important keywords in your Instagram name can up your chances of being discovered by fellow industry members, so keep a creative name handy if you're looking for a way to run your business. Check out how to appear on explore options, here.
7. Attract Followers to your Best Highlights
Let your first impression dazzle your fans! Imagine your story highlights as your brand's first look, so you want to share the best content first and foremost.
On an Instagram profile, 4 Instagram stories highlights are always visible above your grid. Here's how you can reorder your stories highlights:
Long press the Highlight which you want to bring to the front
Select "Edit Highlight"
Go to the "Archive" tab to access your archived stories
Add a story to your highlight and click done.
This quick hack will move your highlight to the front
You will also need to repeat the above steps, but unselect the story you just added to remove it from your highlight. There you are, customization at your tips.
8. Know the Best Time to Post
Posting your content on Instagram is not enough, timing plays a very crucial role to maximize your engagement & reach. One of the best Instagram hacks is to know the best timing to post for your business. Here's how you can know when your audience is most active!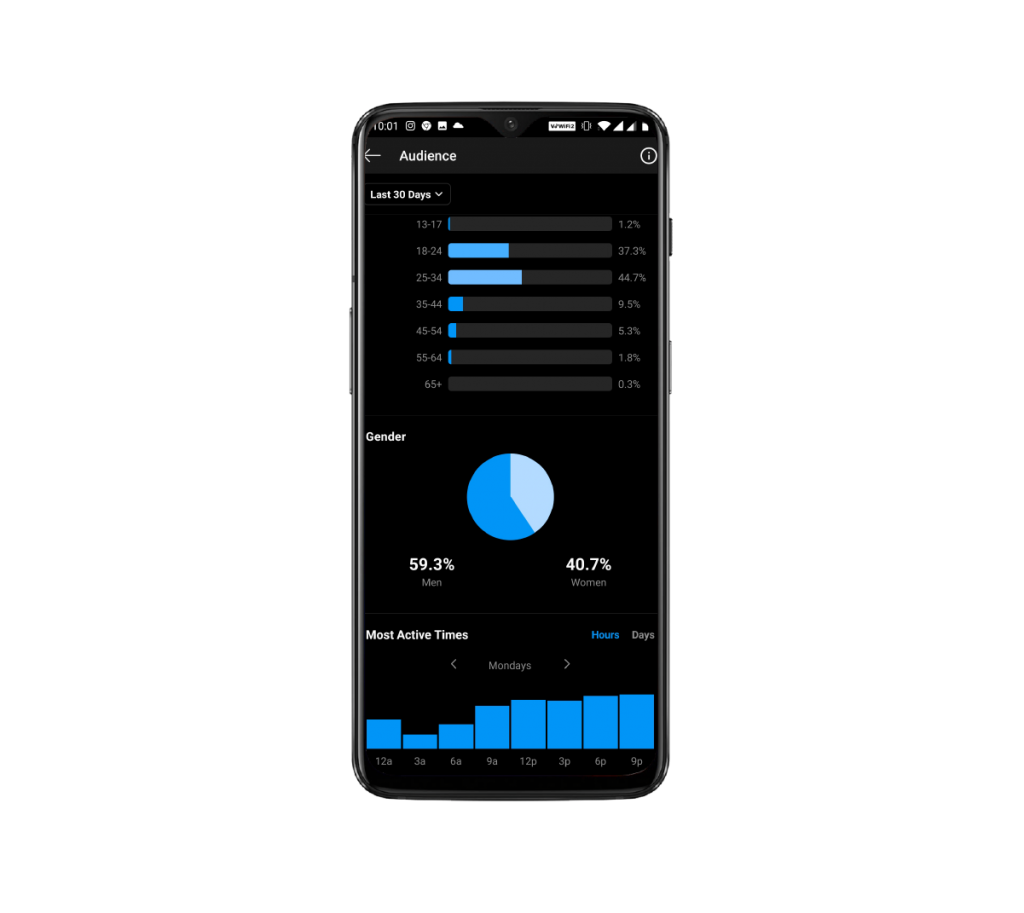 One simple way to do it:
Visit your Instagram Insights to learn about the peak times for your audience.
Under the "Audience" tab, Instagram will display spikes from your audience and you can know the times of the day when your audience is most active!
9. Add hashtags to your Instagram Stories
Greater your story views, wider your engagement!
One of the best Instagram hacks to increase your story engagement is to add hashtags to your Instagram stories. The maximum limit is 10 hashtags for the stories.
Here's how you can do it:
Add # and mention the most popular hashtag on your story.
Minimize the text size to decrease crowding.
Get the benefits of good marketing.
Most geo-location tags and hashtags will have stories attached to them, which means that yours could pop up on the Explore page.
10. Set up Custom Notifications for Accounts you Love:
Love a particular Instagram influencer and don't want to miss any post? Set up custom notifications and add alerts so you can follow them amongst the whole lot.
Here's how you can do it:
Visit the profile which you'd like to get notifications for
Tap the Following button
Choose Notifications
Toggle the content you want to receive notifications about
Posts, Stories, IGTV or Live Videos, there you go!
11. Create Automated Comment Replies
Have too many similar comments? Create common responses in a jiffy!
If you're an iOS user, you can automate responses to similar comments, and save time. After all, time is money, people!
How you can do it:
Go to the hamburger menu and then Settings.
Tap Creator and then Quick Replies.
Choose a Shortcut message which can be any phrase
In the Message section, type the response according to your liking and save!
So, the next time you want to use that specific reply, type out your shortcut and your phone will complete the phrase for you.
12. Hide Comments from your Feed
When you don't want your audience to see comments, or random people adding to the conversation, know how to keep the comment section quiet. Here's how: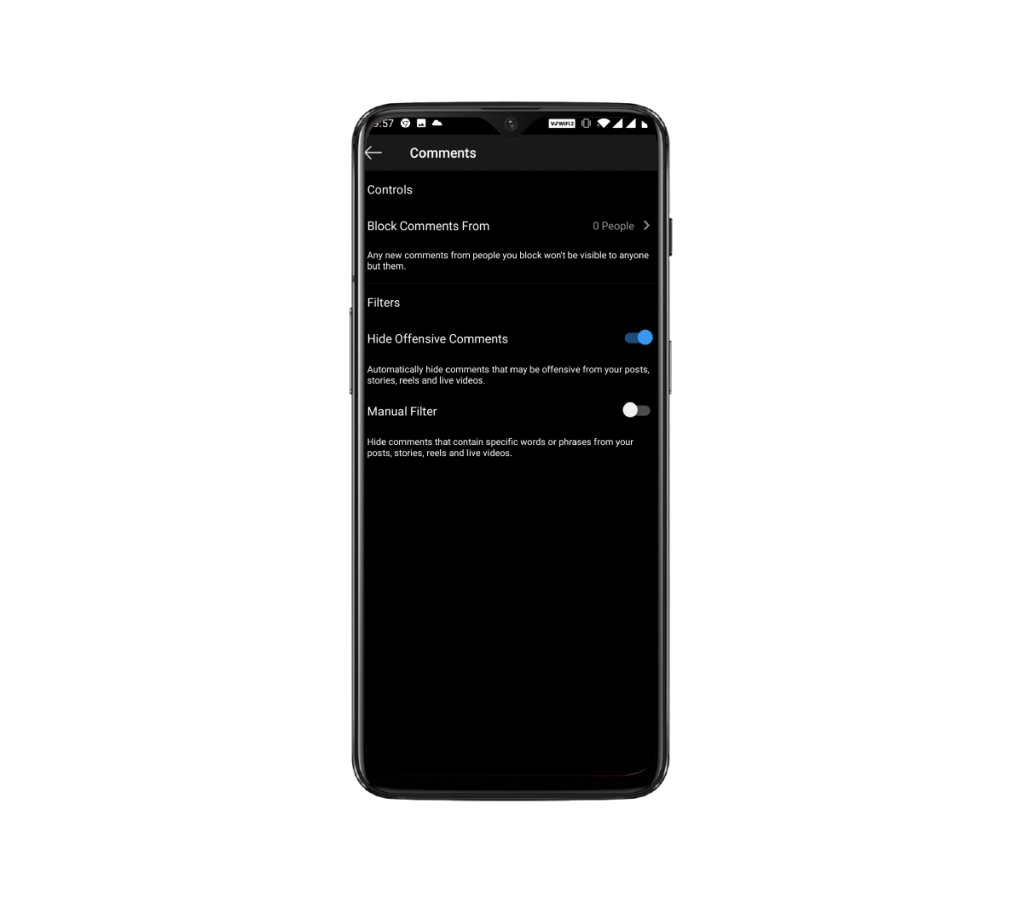 Visit the hamburger menu and tap Settings.
Tap Privacy and then CommentsSet Manual Filters for specific words, or 'Hide Offensive Comments' to auto-filter any rude language
You can even choose to hide comments that you don't like, and you're good to go!
13. Recording Video Hands-Free, and Here's How!
Too tired of recording selfie-videos? You may be surprised to know that Instagram allows a hands-free mode of video making as well!
How to do it:
Open the Instagram Stories cameraSwipe through Normal, Boomerang, etc.—and stop at the Hands-Free recording option.
Tap the record button at the bottom of the screen and begin recording.
To stop recording, let the maximum time run out or tap the capture button again.
14. Add Your Brand Fonts to Your Stories
When your brand is all about you, having a unique font can help you build consistency. Refine your brand aesthetic on Instagram Stories with this quick hack:
You can add your brand's fonts with Over app for a simple way following these steps:
Select your font, and airdrop from your computer to your phone
Accept and install the files on your phone
Open the Over app, and navigate to fonts in any of your draft templates
Your fonts should be installed according to available options
15. Save a Live Session?
Learn how to do so!
Tap on the "save" button upper-right corner while streaming.
Save the video to your camera roll• Keep the video for the memories, or re-purpose it for an IGTV video, choice is yours!
Try using these Instagram hacks and grow your business on Instagram. Also, need some inspiration for content marketing? Check out some brilliant Instagram content marketers like Julia McCoy, Lauren Salaun and Dain Walker! Follow their handles to get some insight when it comes to marketing your brand on social media.