Do you want to grow your business but don't know where to start? Is working all day on digital marketing practices too overwhelming for you? Or are you not getting satisfactory results despite all your efforts? Then, here are some tried and tested digital marketing strategies to help you promote your business. 
Small businesses are flourishing in the digital age! With the numerous options to promote your business digitally, the permutations are virtually endless. Setting up a business online is not enough. To make your business grow online it is vital to promote your business with the best available resources and practices. The current industry trends have proven that using digital marketing is undoubtedly one of the best methods to grow online. If you are wanting to scale your business online with digital marketing but don't know how to use it. Then this article will help you.
What is digital marketing?
Digital marketing is a technique of marketing through which you can advertise to people digitally. It leverages different channels like search engines, websites, social media platforms, emails, and mobile applications. Allowing better interaction with the audience helps understand the audience better and increases their trust in the brand.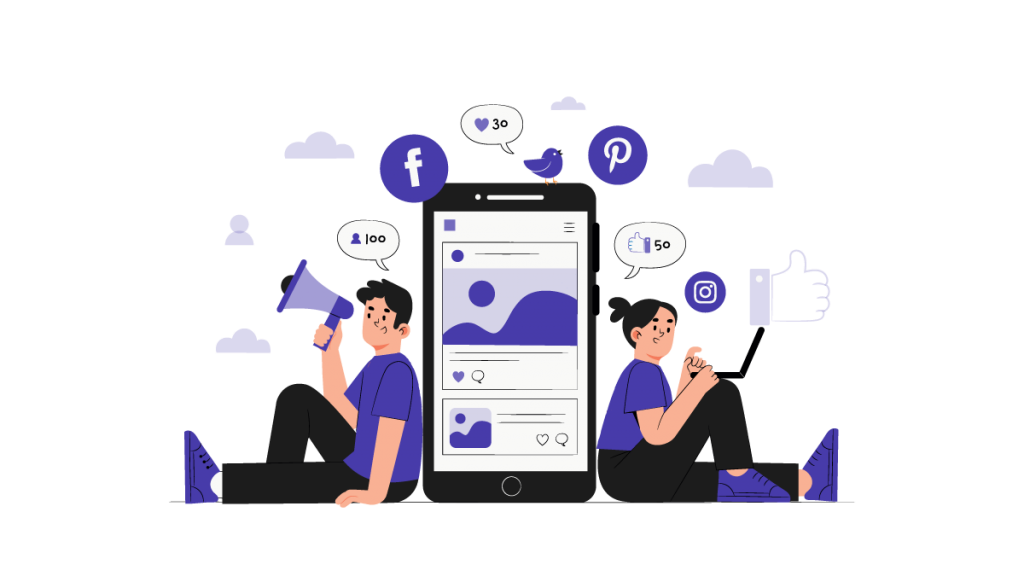 Digital marketing would also show marketers advertisements to people based on their actions and preferences on the internet being less expensive than the traditional forms of advertisement.
Digital marketing can be broken down into different categories like content marketing, SEO, pay-per-click, social media marketing, email marketing, and affiliate marketing. These techniques need to be managed in different proportions for effective results.
How can digital marketing help you promote your business?
Many different types of digital marketing techniques exist and practicing only a few of them won't help you transform your business to its full potential. Therefore for using digital marketing to promote your business it is important to figure out which practices you need to emphasize and what is the foundational method according to your business type.
Content Marketing
Creating content with specific keywords that are relevant to your target audience assures that your content is visible to the correct people.
Linking back credible websites and making continuous optimization improvements helps the website to rank and eventually brings in the first position.
This set of practices is what we call Search Engine Optimization.
Pay-Per-Click
Traffic can also be drawn to your website by running advertisements but for that, you have to pay a certain fee each time someone clicks on your ad.
You could have text ads that show up in search engine results, image or video ads that show up on websites, and much more.
This is possible with the help of pay-per-click.
Social Media Marketing
To reach a larger audience, Social media platforms like LinkedIn, Facebook, Instagram and YouTube play a vital role in advertising the brand's content.
These can also be used to advertise its products and services with ads, posts, images, and videos and engage with the brand's audience ultimately bringing them to stores.
That's Social Media Marketing.
Email Marketing
Many times you realize that a large number of your audience is not visiting your website the second time.
To make product sales, they need to be kept engaged and nurtured.
Email is a very useful marketing tool for these situations to help them better understand the product they visited on the website and assist them in the buying process.
Emails can also be sent to potential customers to generate sales. Pro tip: Personalised emails work better than generalized emails to grab audiences' attention.
Affiliate Marketing
Finally, the business funnel is growing but you need more traffic from third-party websites to visit your website. This could be achieved through affiliate marketing.
Affiliates would promote the brand's product or services to their audience for a fee with the help of email, sign-ups, registrations, conversions, subscriptions, etc.
Are there any free tools?
Marketing has so many moving parts and it's sometimes expensive to hire people. From writing ad copy to finding keyword ideas, there are quite a few disciplines you need to work on when you are running a marketing campaign. You need to navigate through these areas without embarrassing yourself or poorly crafting your marketing assets when you are in front of your clients.
For best results, you need to master this all, and you won't be able to start your campaign because it would take you months to figure out everything from scratch. But luckily there are many tools available to speed up the entire process.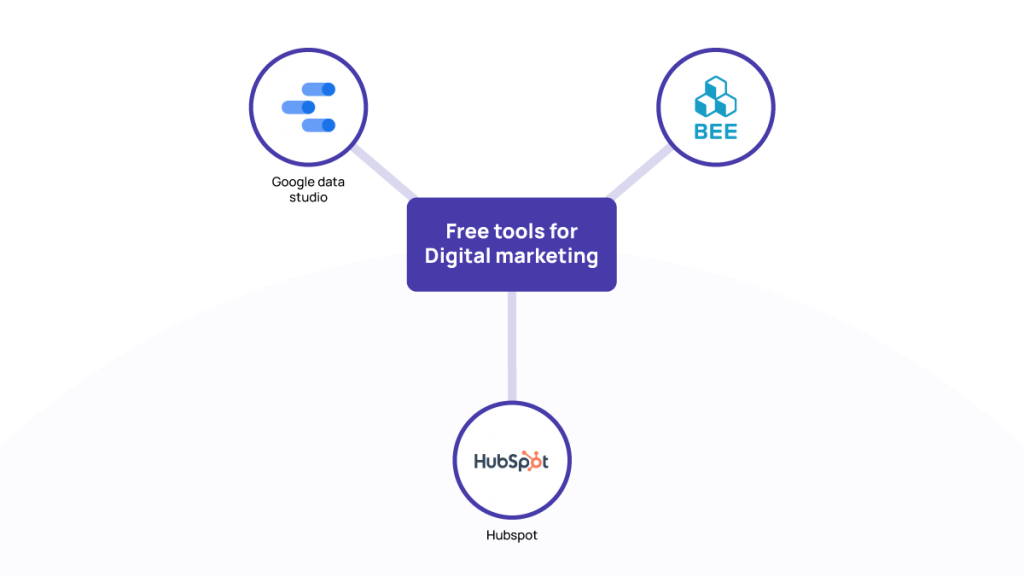 Google data studio
Imagine you need to visit tens of pages, from your google analytics page to your Facebook page insights and other analytic solutions just to keep an eye on everything. Doesn't it sound too much work? Well, these days you don't have to do so. Google data studios let you put all your data in one place for free.
It comes with a real nice good looking dashboard that will answer any of your questions. It is a great tool for reports for clients and you can even give them live access so they can just log in and see everything.
However, it has some serious shortcomings, including a limited number of charts per report, a limited amount of interaction with elements, a lack of APIs for automation, and a lack of real-time updates.
HubSpot
From live chats to email marketing abilities, HubSpot offers a streak of free digital marketing tools plus a free HubSpot CRM to manage all that data. To get started you might want to download the free marketing plan template which will help you to plan out all your digital marketing goals and strategies.
Hubspot provides all its integrations with third-party platforms and customizes them to meet your goals. The HubSpot ecosystem provides you with limitless capabilities. Its resources are free and let you grow your digital marketing at your pace.
The demerit of HubSpot is that it gets expensive quickly! Their Starter plan only includes 1,000 contacts and costs $50 per month. If you go beyond that you'll have to subscribe to their Professional plan for $800 per month, which will allow you to add another 1,000 contacts. And if you require more, then you'll have to purchase their Enterprise plan for $3,200 per month, still offering you a maximum of 10,000 contacts.
Beefree
Beefree is an email design tool that helps you create beautiful and effective emails. They are a pleasure to read and responsive to all displays.
If interested, you can also upgrade to their pro feature to access more of its templates and features. Create beautiful emails to push up your customer interactions with Beefree for free!
Their Free plan limits you to sending only up to 10 emails and pages. If you want unlimited pages, folders, and reusable blocks, they provide a team plan for $30/month. Abd for more premium features, they have an Enterprise plan.
Exly
Exly is an amazing way to launch, manage and grow your business online. A one-stop solution for all your needs. We simplify your work and help you grow your business.
Witness your business growing through the Growth marketing funnel we provide.
Exly's Lead capturing funnel effectively captures leads at the different stages and prioritizes reaching out based on their intent.
The Growth marketing suite we provide is a comprehensive suite. It enables you to dynamically position your products and services and attract sales.
Automate Workflow and Analytics suite helps you to take Smart Business Decisions
Use an Insightful Dashboard to track views, leads & payments and analyze what works best for your business.
All our experts are here whenever you need them for assisting you to grow your business. Feel free to contact the team anytime.
The Conclusion
We hope all your doubts about digital marketing would have been demolished till now. But honestly, that's not all the things you need to be mindful of. There is something else that you need to understand for making digital marketing to promote your business. Something basic but equally crucial for the desired results is consistency.
"Rome wasn't built in a day, but they were laying bricks every hour." You can start small. You can focus on improving a little every day, or you can simply put another rep. Your business won't grow overnight. It will take time, sometimes a little longer. But what you need to do is be consistent with your efforts towards building it better.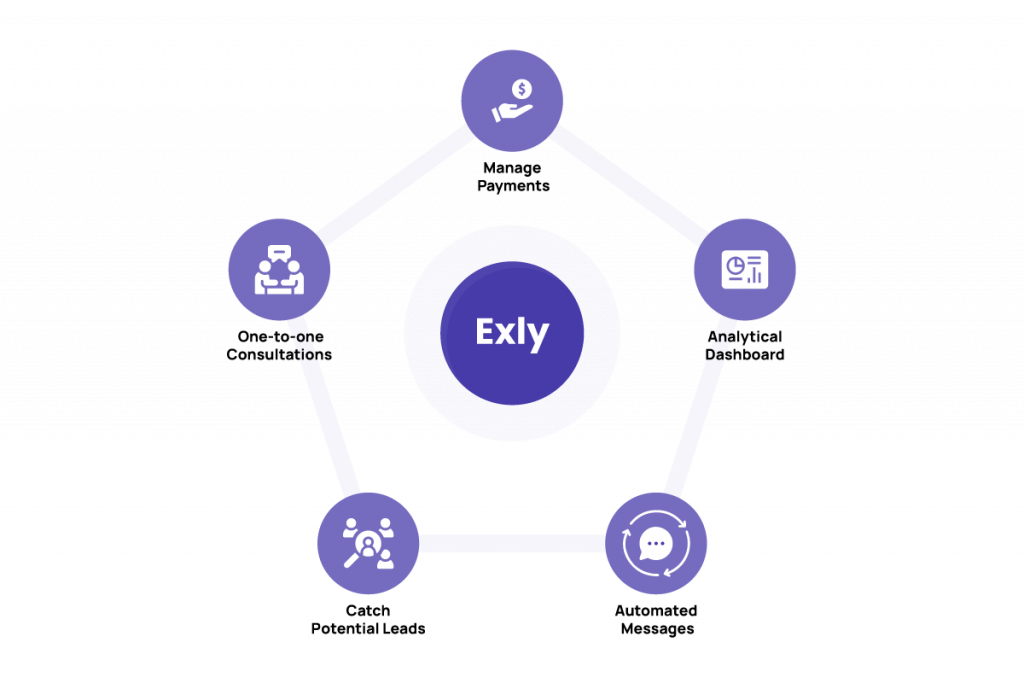 Using digital marketing to promote your business is not only about using good tools and platforms, rather it's more about being consistent to the peak possible. By being consistent I mean posting regularly on social media, maintaining customer interactions more often, being aware of the happenings in your business, and engaging with your audience. Posting regularly doesn't mean posting non-useful stuff. Rather it will harm you. Posting good content on social media regularly is the key promote your business through digital marketing.
Consistent efforts for digital marketing won't cost you any huge initial investment with Exly. We are a one-stop solution for your business game. You can pay only when you get paid! You can pay only when you get paid! Join us to start your business growth journey! #BeAnExlyprenuer