The Astrology business is a business of faith and trust. And in today's market, what astrologers need to do is skillfully blend traditional knowledge and technology seamlessly, to create a brand for themselves. Nehaa Goyal who previously worked in the corporate industry switched to her passion and became an Astrologer and an Empowerment coach. She not only successfully created her brand but also created a loyal client base.
Though it's not an overnight success for Nehaa, she has worked her up and tried innovative tools available at Exly which helped her jump the bridge and join the party of creator success stories. Let's learn about Nehaa's strategies and tips in this astrology creator case study.
Who is Nehaa Goyal?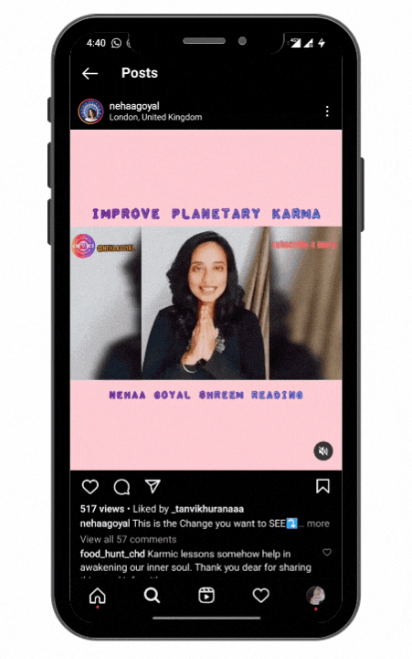 Nehaa worked as a Marketing and Sales professional for 15 years in the Corporate industry before she finally decided to pursue her curiosity in astrology. This drive in her started from a perspective of understanding for a person goes through life and why do certain things happen to a certain person. In fact, she did not approach this subject from a victim's point of view of things of "Why me?", but rather from understanding the science and depth of life events. That's when she started studying the subjects that connect human psychology and astrology.
Nehaa now specializes in DNA Astrology, Tarot Cards, Numerology, and Empowerment Coaching. She believes that "Life is a dance between the 'Comfort Zone' and the 'Big Wide World' filled with opportunities. Both are equally important."
Nehaa Goyal's clients believe that "the readings and life coaching she offers are realistic and applicable to handle day-to-day real-life pressures, situations, and feelings, given her own experience in the corporate."
How did Exly help Nehaa Goyal in her Astrology business?
1. Creating a Credible Brand with a Professional Website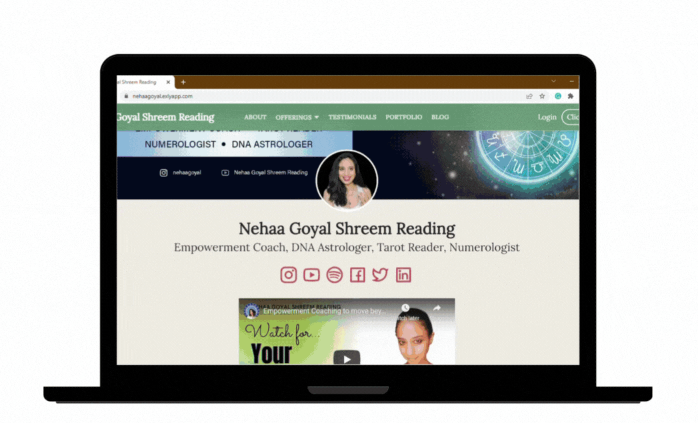 Exly offers a variety of customizable templates which you can use to create your own professional website. These templates are mobile optimized and highly conversion friendly. Nehaa did the same thing and created her own professional website where she offered her services and collected payments all in one place.
Your website is the first step towards building your brand which means creating an identity for your own self and services. Post that, you can start listing your services as live or recorded consultations, courses, merchandise, blogs and so much more.
2. Optimise Conversion via Sales Funnel
The Sales Funnel is a step-by-step approach to taking your lead on a journey to becoming a client. This journey is carefully designed and optimized with the help of tools available at Exly such as –
Lead Capturing Funnel
Automated Analytics
Insightful Dashboard
Integration of Marketing Tools like Google Analytics and more
The highest revenue Nehaa achieved was in her 6th month, April 2022 after she joined Exly. Nehaa hosted a free webinar for her clients with the help of Exly. She gave them an introduction about her consultations and a first-hand experience of how things work out in these live sessions. These webinars gave her a lot of exposure in terms of building an email list of potential clients.
3. Better Engage with Customers by Automating Email & Payment Reminders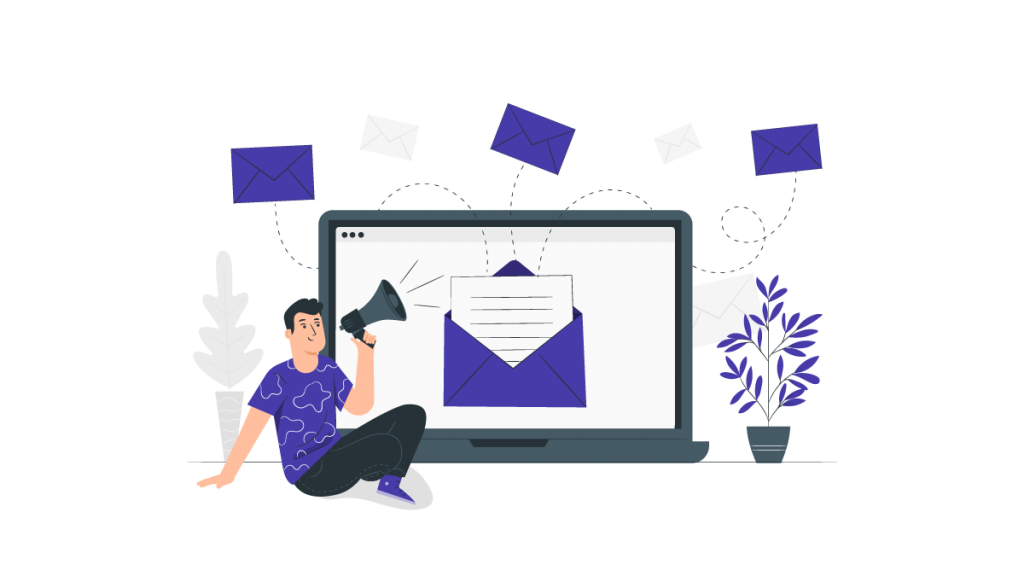 It is important to keep in touch with your audience through various platforms of owned media such as your own blog, newsletters, social media platforms, etc. These channels can also be used to send out offers about your products.
With Exly, you can send bulk emails and payment reminders to your clients. Furthermore, you can also offer limited-time offers, discounts, and many more to your clients.
After her webinar, Nehaa too adopted this strategy and offered limited-time offers with the help of Exly's creator dashboard on her website which created an effective sales funnel for her. This particular practice helped her achieve a hike of 673% in her revenue as compared to the revenue she started off with.
The Creator's Take
We interviewed Nehaa who was kind enough to shed light on her experiences as an Astrologer and help her fellow creators with the Dos and Donts.
1. What were the hurdles you encountered in your business?
Answer – I wouldn't call them hurdles necessarily, rather let's call them stepping stones towards better learnings. Some of them were –
Shifting from earning a particular income every month to working towards creating that consistency of income.
Lack of social media awareness and marketing
Also while working for your own self, sometimes you need to give yourself an extra push. But as I said they are not really hurdles. Just some things were different from the corporate world.
2. Which are your favorite features of the Exly app?
Answer – There are quite some –
The possibility of uploading non-downloadable video workshops. It helps reduce the misuse of my content in terms of multiple sharing.
The entire automated feature of reminders of booking and sessions to the clients. It seems very professional from a client POV as per the feedback I got from my clients.
The blog and emailing.
Customer list consolidation.
The communication section if one uses well helps them keep in touch with their clients.
3. Which metric has shot up since you started using Exly?
Answer – The organic reach, especially when I started to use the communication feature in the right way. The client database consolidation. Revenue consolidation helps me understand which service of mine works best and thus I can decide when and what discount to offer. Exly provided me a platform to offer ad hoc listings as well.
As I use many techniques and this offer unique readings, sessions, and webinars. The whole scenario wherein I can do that all through a single platform is quite good.
4. While you are into this practice, how do you handle the clients who come off as atheists, or non-believers? And what would you suggest to your fellow creators in this niche?
Answer – The work that I do requires faith. If there is no faith then this is not something that can help the clients. So, I personally have never found the need to prove the relevance of my work. I was once asked the question, "Is astrology science?" I told them, that where science is still figuring out a new thing every day about how the space bodies affect earthlings, astrology has already given us the answers and solutions.
In fact, talking about faith, I feel it's something that needs to be built over time. Such my faith and trust in your platform, Exly. You guys proved your relevance in my business and that's what has built the faith in the brand.
5. Would you recommend Exly to your fellow creators?
Answer – Exly matches my brand message of creating a safe and comfortable space. I strive to create a happening space for my clients and Exly creates the same for creators like me.
Right from my data to payments, my clients and I have found the platform to be very reliable. Therefore, I most definitely would!
Are you an Astrologer too who is looking to grow your business? Take Nehaa's success story for inspiration. This is how Exly can help you –
'A world full of NO boring jobs'
This is what we believe at Exly. And that's why we help you automate your business so that you can focus on what really matters, your passion. We do the mundane part like capturing leads, sending out bulk emails, tracking your payments, and lead conversions so that you can do what you do best.
In fact, there is so much more than just selling your products and services in the business. It's about creating your brand presence and a loyal customer base that keeps returning. At Exly, you can explore everything. We hold no feature back from you!
Let me list out a bunch of things you need to go and try on Exly now!
Make your own page, like in less than 5 five minutes or so. And don't let procrastination stop you, starting a task is completing 60% of it.
Instead of making a thousand clicks for your cold emails, you can automate them on Exly.
Post a variety of content. Text, videos, pictures, everything, don't miss out on any of them!
Distribute your content on social media platforms, and be present where your audience is!
Receive payments through a safe interface! Even better give one-time offers, limited-time offers, and so on.
Track your analytics. Check what works for you and what doesn't.
There's so much more to this ever-evolving app that you'll be the one telling us all about it. It's time you scale your Astrology business with Exly now!